Your Employee Communication Toolkit
Once you sign up, share the following materials with your employees to share the news about your new voluntary benefit!
Resources
+ Print copies are available upon request.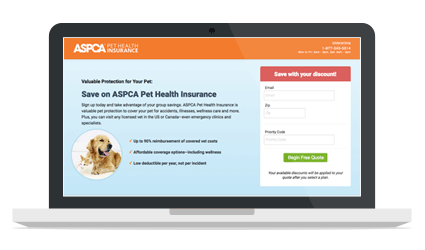 Sample Landing Page
We can create a customized landing page for your employees.
---
Share your company's story!
Congratulations on helping your employees care for their pets! Help other HR professionals make a smart addition to their voluntary benefit program. Tell us your story at groups@aspcapetinsurance.com
Terms: By submitting your story, you agree that you are over 18 and that Hartville Pet Insurance GroupSM, United States Fire Insurance Company and Fairmont Specialty Insurance Agency, Inc. have your permission to use your story on its websites and other materials to let people know how our pet insurance can help them afford their pets' veterinary care. This information may be used in whole or in part while maintaining the intended meaning of the text. We may share your story as well as your name and company name in our marketing materials.