Broaden Your Business with Pet Insurance!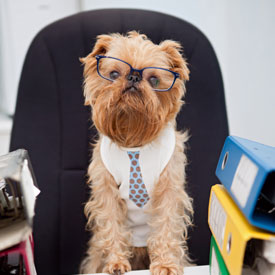 As one of the largest and most experienced pet insurance providers in the US, we can help you take advantage of the fast growing pet insurance market. Register now to learn more about offering ASPCA Pet Health Insurance to your clients.
Please note that pet insurance plans are property and casualty products. You must be licensed for property and casualty insurance sales to offer these products and be eligible for commission payments for these products.
10 Quick Facts
Here are 10 great reasons to add our pet insurance to your portfolio:
Pet insurance is among the most requested voluntary benefits, and more companies view it as a great way to attract and retain employees.+

Behind food, veterinary care is the second highest expense for pet parents.++ Our pet insurance helps them manage these costs.

Implementation is easy! Learn more about how it works.

We're one of the largest and most experienced pet insurance providers in the US, and we have an A+ rating with the Better Business Bureau (2014).

We reimburse 90% of usual and customary covered charges, depending on state availability, after a low $100 annual deductible per pet.

We have four increasing levels of coverage, so customers can pick one that fits their needs and customize them for their budget with deductible and co-insurance options.

Pet parents can cover their pets for accidents, illnesses, wellness care, ongoing conditions, and more.

We offer a 10% discount on the base plan premium for multiple pets.

Our customers enjoy great benefits like simple claim filing, online account management and a useful pet health library.

Our pet insurance supports the ASPCA's mission by helping pet parents afford veterinary care so their pets can live longer, healthier lives.
---