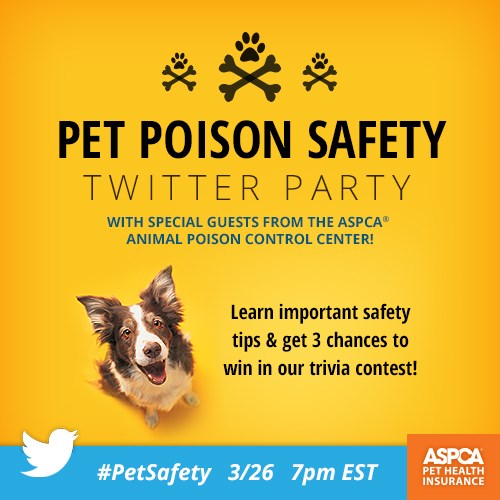 Learn important poison safety tips for your pet and get 3 chances to win at our Pet Poison Safety Twitter Party. The party will be held on Wednesday, March 26 from 7-8 pm EST. Use the hashtag #PetSafety to join the conversation and play our trivia contest.
Tips for joining a Twitter party:
   • Sign up for a Twitter account 
   • Follow the party hosts. For the Pet Poison Safety party, make sure you're following ASPCA Pet Health Insurance and the ASPCA Animal Poison Control Center.
   • Twitter parties are easiest to follow if you're using a dashboard like TweetChat, TweetDeck, or TweetGrid. 
   • Use the party hashtag (#PetSafety) in every tweet to be a part of the conversation.
No purchase necessary. See official rules.