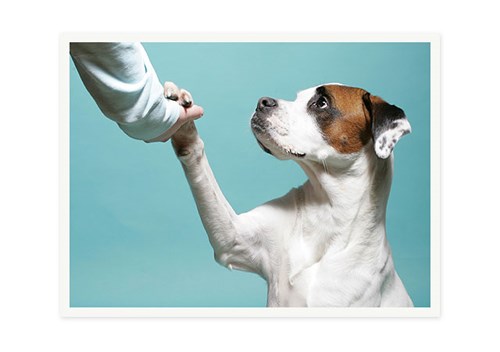 As kids start heading back to school, what better time to teach your pooch a new trick? Here are 3 fun tricks you can teach your dog that also reinforce good behaviors.
Trick #1: Hand Targeting
Training your dog to touch his or her nose to your hand is a neat trick and very handy when you need to lead your pup somewhere.
1. Hold an open hand near your dog's nose
2. As soon as nose touches palm, say, "Yes!"
3. Offer a treat with your other hand
Tip: Keep practicing until you have a dog magnet on your hand.
Trick #2: Ready-Set-Down!
Work on your dog's ability to obey even when excited with this trick. It's also a great way for both of you to get some exercise.
1. Have your dog sit, then say, "Ready, set, go!"
2. Run together, then yell, "Ready, set, down!" and stop
3. If your dog lies down, offer a treat. If not, lure your dog down with a treat
Tip: Take a brief rest and do it again until your pet gets the hang of it. 
Trick #3: Hide and Seek
Remember playing hide and seek as a kid? Now you can play it with your dog! It's a fun interactive game that gets your dog thinking and moving.
1. Start by having your pooch sit or stay
2. Then hide and say your dog's name once
3. When your pup finds you, celebrate!
Tip: Keep your hiding places easy at first, so your pet won't get distracted and stop playing. Then increase the difficulty as your dog gets the hang of it. If you have children, get them involved too!
What kind of tricks have you taught your pet? Tell us in the comments below or share them on Facebook.