If the holidays are a time for friends and family to revel together, then it is no surprise that list should include our four-legged pals too!
While pets shouldn't take part in every aspect of the festivities (like imbibing alcohol or chocolate treats), they can still play their part in the fun. Here are some tips to include your cat or dog in the celebrations.
1. Give a Pet-friendly Gift
It only makes sense to give your pet a gift while exchanging all the other presents with your human family. Get creative and make a homemade present, like tasty cat treats or yummy dog snacks. If you're not the DIY type, pick out a useful gift like a PetPace collar, which monitor your pet's health and well-being.
2. Invite Your Pet to the Party
If you're having a seasonal soirée, let your pet mix and mingle with your guests. While you're busy with hosting duties, designate a close friend to make sure your party animal doesn't get into trouble. If your pet isn't a social butterfly, set up a warm and quiet place for your furry friend to retreat.
3. Take Your Pet Along
Consider bringing your pet with you on holiday visits. Just be sure to ask your hosts in advance if they can accommodate your pet and to make sure they don't have any pet allergies. Check out these tips for traveling with your dog to help get your pal there safely.
4. Put Your Pet in the Picture
If you're planning a holiday family portrait, include your pet in the shot—in a holiday sweater perhaps? And, of course, be sure to take plenty of photos of your pet enjoying the celebrations.
5. Walk Around the Block
Don't forget to grab the leash if you're going caroling or to check out your neighbors' holiday decorations. Such time spent together means the world to your dog, and provides him with important exercise too!
6. Get Set for Guests
Get your house ready to host the holidays by vacuuming and dusting thoroughly. You may also want to tire your pet out with a long walk or energetic game before the doorbell starts ringing to make for calmer introductions and leave a lint roller by the door for exiting guests.
7. Always Show You Care
All the hustle and bustle and added stress of the holidays can weigh on you and your pet, too. That's why it is so important to take some time to show your pet how much you love them, such as these little ways. 
Your pet will also appreciate you keeping in mind their safety during this hectic time of year. Such seasonal safety hazards include: never leaving your pet in a cold car, keeping cats indoors, cleaning up antifreeze spills, wiping off paws, and avoiding haircuts to help retain body heat.
Pin this infographic for easy reference!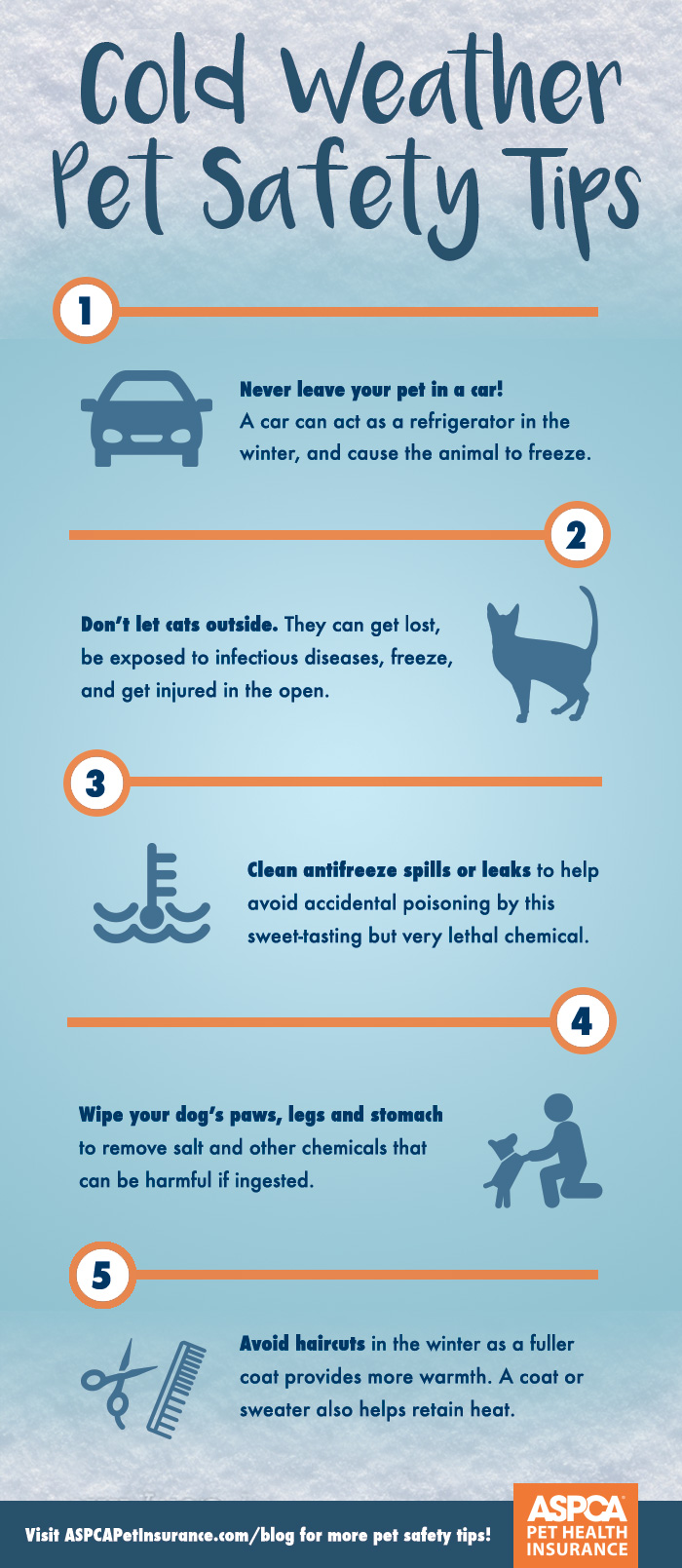 If a mishap does happen, our Vet Finder can help you locate a licensed veterinarian nearby.
Sources:
The American Society for the Prevention of Cruelty to Animals (ASPCA). "Holiday Safety Tips." ASPCA.org. <https://www.aspca.org/pet-care/holiday-safety-tips>.