Our Affiliations
We've developed relationships with several organizations to help us give you the best pet insurance coverage possible.
The American Society for the Prevention of Cruelty to Animals® (ASPCA®) is a leading voice for animal welfare, with more than 145 years of helping animals across the country.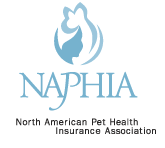 The North American Pet Health Insurance Association (NAPHIA) is committed to educating North American pet parents, the general public, and the veterinary community about the value and benefits of pet insurance. Members work together to set high standards for the pet insurance industry.