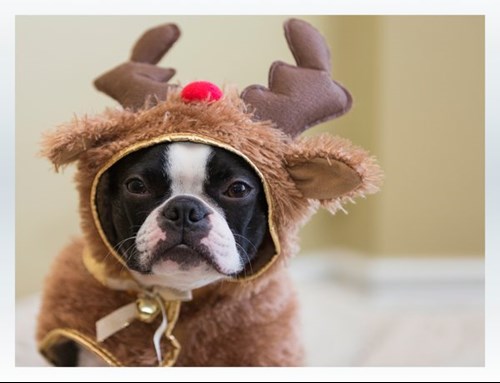 With so much going on this time of year, it's not always easy to keep your pet safe and sound. Here are a few shortcuts to help make your holidays vet visit-free.
Give a Special Treat – With all the festive foods around, why not make something special for your pet? Check out this recipe for Apple + Carrot Dog Treats.
Avoid Harmful Sweets – Speaking of holiday goodies, remember to keep your pet away from troublesome treats, like chocolate and desserts sweetened with Xylitol.
Raise Your Glass – Place glass ornaments and fragile decorations out of paws reach so your pet can knock them down or bat them around and break them.
Enlist a Helper Elf – If you're the host, ask a trustworthy guest to keep an eye on your pet. This way, your furry friend will be safe while you focus on the festivities.
Provide a Respite – Parties can make some pets anxious or uncomfortable. Set up a warm and quiet spot out of the way where your four-legged friend can retreat.
Lift the Gifts – Is your pet nosy? Put the presents atop a sturdy table. You can also help satisfy your pet's urge to open with a treat-filled gift of his or her own.
Wind Them Up – Holiday light cords can be troublesome for pets. Consider tucking them away in a cable box or winder, which you can buy at a hardware store.
If your pet does get into trouble during the holidays, an ASPCA Pet Health Insurance plan can help you manage the costs. Get a free quote.