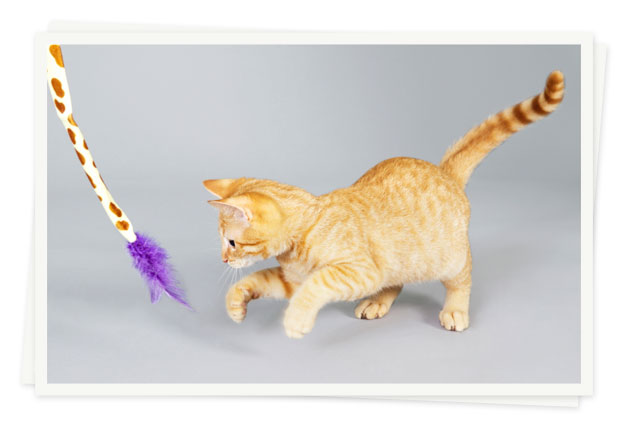 Has your cat put on a little extra weight during these cold winter months? We've found some tips to help you get your kitty back on track.
• Your Cat is Not Alone
Nearly 58% of cats are obese, according to the American Animal Hospital Association (AAHA). When determining whether your pet is overweight, the best way to judge is on a scale at the veterinarian's office, but you can use points 3 & 4 from our friends at the ASPCA® to assess your pet at home.
• Visit Your Veterinarian
Any time your cat is dealing with obesity, consult with a veterinarian first to rule out any medical conditions such as hypothyroidism or other disorders. Your veterinarian can help you gauge your cat's body condition and create an approved weight loss program for your cat.
• Practice Patience
A cat's diet should not be changed drastically overnight, and you should be sure to follow your veterinarian's nutrition recommendations. A staged food transition could take approximately two weeks. To help your furry family member adjust and accept his new meal plan, try to spice his chow up by adding ketchup or salmon juice.
• Get Moving
Unlike our canine pals, cats aren't the perfect companions to take along for a morning jog or swim. They're more of the relaxing type. One great motivator to get your cat moving is to use their mealtime as exercise time. Try walking around the home with their bowl for a few minutes before giving them a portion of the meal. See if you can stretch mealtime out to 20 minutes with this tactic.
As with humans, cats also need some motivation to lose weight. These cat toy ideas from our friends at the ASPCA may be useful to help your cat get and stay active.