Meet Colonel Rock III! He's the mascot for Western Illinois University and, we're proud to say, covered by ASPCA Pet Health Insurance.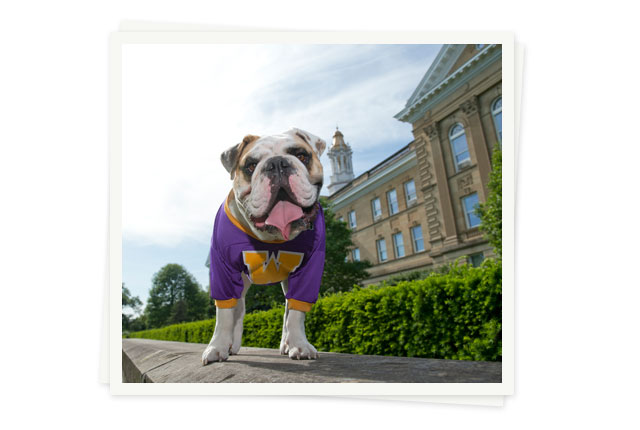 Full Name: Colonel Rock III
Nickname: Rocky
Birthday: 3/3/2010
Pet Parent: Joe R.
Occupation: Western Illinois University mascot
Basic Job Duties: Attending Western Illinois University events, meeting new people, posing for pictures and being a great live mascot for WIU.
What's your favorite part of your job?
Meeting new people and spreading school spirit.
How did you meet your pet parent?
I was donated to the University by the Seiss Bulldog Ranch located in Seneca, Kan. After a campus-wide search and numerous interviews, my dad was selected to be my caretaker. They brought me to campus, and there he was.
What's your idea of a perfect day off?
I first like to start off the day laying out back on the deck in the sun, followed by some breakfast, play time, plenty of naps and a big dinner before heading off to bed.
What's your favorite treat?
I love popcorn!
Who's your best friend?
My best friend is Lambeau, a 2-year-old Yellow Labrador.
What's your favorite season and why?
My favorite season is fall because the weather is perfect for an English Bulldog like me. Also, students are coming back to school, and football season is underway!
Do you have a favorite sports team?
The Western Illinois University Leathernecks, of course!
If I could be any other animal for a day, I would be a ______, because ______.
I would be a pig because I would get to roll around in mud all day to stay cool, eat as much as I want, and I already snort.