3 Key Facts About Your Pet's Veterinary Care
1. US pet parents spent about $15.3 billion on veterinary care in 2014.
Veterinary care is the second highest pet care expense behind food! Part of the reason veterinary costs are rising is because more advanced treatment options are available for pets. That's great news, though it can be hard to afford these unexpected bills. ASPCA Pet Health Insurance can help you manage veterinary costs and give your pet the best care possible.
COST OF VET CARE
US 2006 - 2014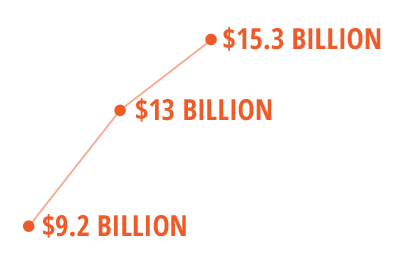 American Pet Products Association, March 2014
---
2. Nearly 60% of pet injuries result in vet bills of $200 or more.
Injuries that result in
vet bills of $200 or more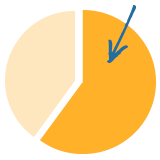 Internal claims data, Jan. 2012-Dec. 2013
Pets are fearless, playful and bold. We love them for it, though those qualities can also lead to trouble. Even indoor cats can get injured when they crawl into a tight spot or nibble on a houseplant. The veterinary bills for pet accidents can quickly add up. Accident protection is at the heart of all of our plans, and all pets over 8 weeks old are eligible for this coverage.
---
3. More than 1 million pets are insured in North America.
More pet parents today are insuring their pets' health so they can better manage their veterinary bills. Often, pet parents have had a prior experience with a pet medical emergency, and they've seen how difficult it can be to deal with the bills. We all hope that nothing happens to our pets, but you're among many pet parents who have decided it's better to be prepared.
Pets in North America
Covered with Pet Insurance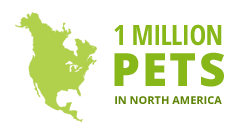 North American Pet Health Insurance Association
(NAPHIA), State of Industry Report 2014
---