When looking for the perfect place to live, most dog parents share one major necessity—they want a nice yard. However, if this is your first time with a dog or your first time having a yard space for your dog, it's essential that you create a pet-friendly yard. From fencing options to dog-safe plants, there's much to consider for your outdoor living space.
How To Choose a Dog Fence
Fencing for pets is a hot topic for nearly any dog parent. Though you can put your dog on a leash every time you take them out, the idea of fencing in the yard and letting your dog walk about at their leisure nearly always sounds like the better option. Not only does this allow your dog to spend more time outside, but it also means no more outside trips for you in the dead of night or when it's blizzarding.
Although many dog parents know that a fence is the right choice for their family, choosing one can still be a major decision. One of the first items you will want to consider is the purpose you want the fence to serve. If you are looking for pet containment fencing for your canine escape artist, then a privacy fence may be the best option. This type of solid fence, which can be made of multiple materials such as wood or vinyl, can eliminate the issue of your little pup slipping through the gaps another type of fence would have.
A different style of fencing to consider is chain link. These wire fences will give your dog more visibility of the outside world (which they may highly appreciate) and enable you to have a more 'open' feeling between your property and others. Of course, this fencing option does not provide privacy, but it is more budget-friendly than most solid fences. If the only purpose you want your fence to serve is to keep your dog in your yard, then this could be the right choice.
A nice in-between fencing option from solid to wire fences is an ornamental fence. Typically made from metal, these types of fences have gaps between their bars, allowing there to be more visibility. This type of fencing is often considered to have more curb appeal as well since pet parents can customize their gates, post caps, and rails.
When shopping for fences, you will most likely come across the option of invisible pet fencing. Also known as an electric or underground fence, these involve burying a wire around your property, which will signal back to a collar your dog wears each time they head outdoors. This type of fencing is often not the first to be recommended. Invisible fences do not create a physical barrier on your property, meaning that other animals can still access your yard. Plus, this type of fencing requires much more training from your dog, which not all will take well to.
Fencing: What To Consider
As you toss around all your options for fencing, there are a handful of considerations to keep in mind.
What purpose do you want your fence to serve?

Fences can help keep your dog in your yard, they can prevent wildlife from entering your space, they can provide privacy, and if you have young children, they can also help keep them safe. These are all items to mull over beforehand that could help you in the long run when selecting a fence.

Your dog's breed and size

Smaller dogs will need solid fences or at least ones that don't have gaps they could slip through. If you have an extra-large breed, you may have more fencing options to select from since your bigger pup won't be able to sneak through. Sizing differences are essential to keep in mind if you have multiple dogs of different sizes. You may also need to research your dog's breed to determine which type of fence would be appropriate. For instance, most German Shepherds can easily jump over fences, and Huskies are renowned escape artists.

Yard size

Whether you live in town, out in the country, have less than an acre, or have a rocky hillside as a yard, you will want to survey your space beforehand to understand which type of fence will work best. Do you have any landscaping to work around? A part of your property that you don't want fenced in?

Budget

Your budget may end up being one of the major determining factors as to which type of fence you choose. In fact, purchasing a fence for your dog may very well be one of the most expensive items you get them. Like any other large purchase for your home, it's best to shop around, do your research, and get a few estimates to ensure you're getting a good deal.

Local Ordinances

If you live inside the city limits, then there are most likely laws and regulations you will have to abide by. For instance, you will need to know your property line, if there are any fence height requirements for your street, and you should check on any homeowner's association stipulations for fencing material and color.
It's best to go through this checklist ahead of purchasing a fence. Having your ducks in a row by the time you're ready to buy could save you a lot of last-minute hassle and headache.
How To Install a Pet Containment Fence
When it comes time to get your new fence, one of your options is to build or install it yourself. If you enjoy working on home projects, this could be a fantastic one to add to your list. Doing the work yourself could also be a budget-friendly option since you won't need to hire someone else. This could also be a doable project if you have a smaller yard.
Before running down to your local home improvement store, it's necessary to consider whether this is a project you are willing (and able) to do. Apart from doing all the yard measurements and purchasing and transporting the materials, you will need to know the proper depth for your fence post holes. Depending on your fence design, you may also need to know how to include fencing rails and doors. Plus, if you choose a wooden fence, you will most likely want to paint, stain, or treat it.
Of course, the other, more common option is to hire someone to install the fence for you. (opens new window) Shop around and get some estimates from a few different fencing companies or home improvement stores. You may even have some individuals or family businesses in your area that also do fencing work. Don't forget to ask your friends or neighbors that also have fences who they might recommend.
Besides saving yourself the actual effort of having to do the work, one of the many advantages of hiring a professional is that your fence will be built much faster. With a team of professionals, they could have your entire yard fenced in a fraction of the time.
While your fence is being built, it's best to keep your dog securely inside and away from the construction. When they need to go out, try your best to use a portion of the yard that isn't currently being worked on. After your fence is built, take a quick survey of your yard to ensure no tools or trash were left in the grass, and walk around your fence perimeter, checking that everything is completed to your satisfaction and for your dog's safety.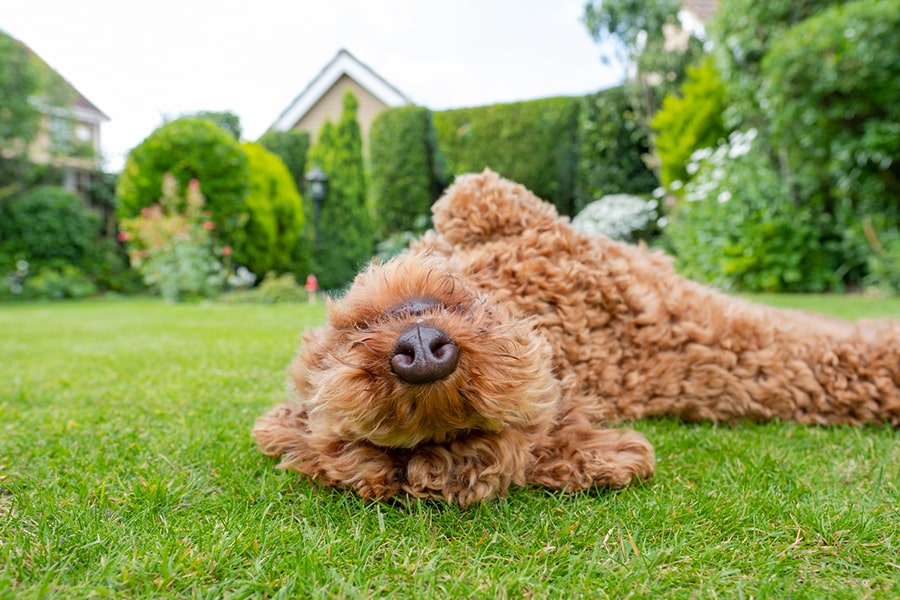 Pet Friendly Yard Plants
As you continue to make your yard a welcoming environment, you may be interested in adding landscaping. Though plants are often chosen based on appearance, you should also consider whether they are safe for your dog. Of course, dogs shouldn't be walking around, eating your plants anyways, but dogs will be dogs.
Dog-friendly yard plants (opens new window) include camellia, marigold plants, fuchsias, sunflowers, coral bells, and snapdragons. Many herb plants are also dog-safe—fennel, rosemary, creeping thyme, and dill, to name a few. When it comes to flowers, there are hundreds of different species, plus all the different varieties of each species. Pay attention to the specific variety you choose, as one type of flower could be dog-safe, while another variety of the same flower could cause severe reactions.
Pet-friendly yard fertilizer is another component to consider. Depending on the fertilizer you use, dogs may find it to be quite tasty. To help avoid this issue, keep your dog inside when you are fertilizing plants or your yard. Thankfully, with some products, if your dog ingests them, the symptoms are minor, typically only slight tummy upset. However, there are others that could lead to more serious issues. One way to avoid this problem altogether is to use only dog-friendly fertilizers.
Another product many dog parents will have in their yard is mulch. There are several different types of mulch, and each could cause a different reaction in a dog if they were to consume it. Symptoms such as vomiting, bloat, tremors, and quickened breathing could all be indicators that your pup has consumed mulch—at which point you will need to take them to their veterinarian. Although many dogs may leave the mulch alone, your canine companion could have an appetite for things they shouldn't be eating. Thankfully, there is pet-friendly mulch you can purchase, which will be much safer to have around your pets.
Pet Friendly Backyard Ideas
For many dogs, their yard is an extended, outdoor living space. They enjoy spending time in the grass, playing, relaxing, and watching the neighbors. As you work on making your yard a place for everyone to enjoy, don't forget to keep your dog in mind.
You can put a fence up for their safety, but if your dog is a fan of observing people and cars as they pass by, consider putting up a fence with gaps between the poles. When choosing items such as flowers, plants, mulch, fertilizer, or pest repellent, select the pet-friendly options and carefully read all instructions to ensure your dog will be safe.
If you enjoy spending time on your patio or deck, consider adding a rug, fan, or bed for your dog so they can happily join too. Depending on your outdoor space, you may also want to make sure that you have some shaded areas, whether under a roofed patio or a tree. Though you may enjoy soaking up some rays and working on your tan, your dog will need a cooler, shadier spot so that they can enjoy the outdoors without overheating.
Some other fun ideas for your yard include:
A sprinkler or kiddie pool for your pup to play in
Some outdoor-only toys like flying discs
A miniature dog agility course
When planning your pet-friendly outdoor space, your feline friends are not to be forgotten. Catios, which are small, enclosed patios for cats, may be something to consider. These little structures don't take up much space, keep your cat safe from other animals and cars, and allow your cat to enjoy the outdoors. There are numerous options available, or you could try building one yourself.
Shopping with pets in mind may be new for you, particularly if you're a first-time dog parent. Though it may take a little bit of time for some of your new shopping habits to become routine, the transition will be much easier than you think. Before long, you may be catching yourself buying new outside dog toys, water or food bowls to keep outside, or even an umbrella for your pup to have more shade. After all, nothing's wrong with spoiling your pup.
Of course, apart from raining love on your pet, shopping with them in mind also means you are keeping their safety a priority. By shopping for and creating a pet-friendly yard, you can rest assured that your pup can safely enjoy their outdoor space right alongside you.
The information presented in this article is for educational and informational purposes only and does not constitute or substitute for the advice of your veterinarian.